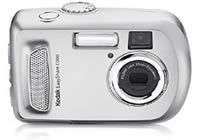 From the snap-aholic to the devotee, Kodak has an array of EasyShare digital cameras, especially one that's perfect for you. All feature Kodak Colour Science Technology, high-quality lenses, and award-winning, easy-to-use design.
Discover the many ways you can share your memories, whether it's emailing pictures, printing at home, or using an online service provider to have prints delivered right to your door. The newest version of EasyShare Software makes it even simpler!
Capture a smile and so much more. With the Kodak EasyShare C300 Digital Camera, great-looking pictures are just a click away.