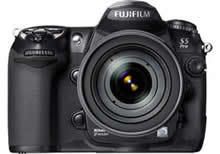 The Fujifilm FinePix S5 Pro is Fuji's latest DSLR camera which is set to be made available sometime early in 2007. The Fuji S5 seems to be based upon the Nikon D200 and features an 11 point AF system, 2.5 inch LCD screen, shutter speeds between 30 seconds and 1/8000 second.
The FinePix S5 Pro also provides 12.34 effective megapixels (Super CCD SR double pixel technology – 6.17MP S-pixels and 6.17 MP R-pixels), ISO of up to 3200, face detection technology, Nikon F-mount and CompactFlash/Microdrive compatibility.
Currently there is no information concerning the price for the Fujifilm FinePix S5 Pro DSLR yet but as we say it is expected to be available in the stores sometime during the first quarter of 2007.