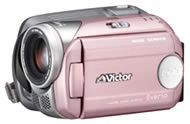 JVC yesterday introduced the JVC GZ-MG47, a 20 GB HD Camcorder which will become part of the JVC Everio series. Like many camcorders in the range, the camcorder will include a built-in hard disk for storage. The JVC GZ-MG47 camcorder series is an entry level camera which incorporates a F1.2 lens and a 15X zoom. Tremendously slim and compact, the camcorder can record continuously for five hours in high resolution mode at a similar quality to DVD videos. The handy JVC GZ-MG47 weighs in at around 350 grams and includes a high definition 2.7 LCD with a 3CCD sensor.
The JVC CZ-MG47 is perfect for home use and includes a "direct DVD function" which enables you to connect a DVD burner and make DVDs or CDs in no time. You don't even need a PC to burn discs with this function, you can simply connect it to the JVC CU-VD10 Share Station.
Currently there is no information concerning the pricing or availability of the JVC CZ-MG47 camcorder.